Single-family rental properties have attracted more than $10 billion from equity firms, hedge funds, REITs and institutional investors. According to Goldman Sachs Group Inc., this market may attract a total of $2.8 trillion in capital investments in the not so distant future. The government's encouragement of this new housing market is fraught with potential societal and economic risks to the long-term health of our neighborhoods and our nation.
Private-equity firms, hedge funds and other Wall Street investors are seeking to develop a Real Estate Owned (REO)– to- Rent Securitization Market with the blessing of the FED and FHFA. A year ago, the Federal Reserve Board issued a policy statement on rental of REO owned by the banks they supervise and allowed the banks to rent REO properties without requiring them to demonstrate continuous efforts to market the properties. Last fall, FHFA initiated a "pilot" REO bulk sale program in urban markets across the nation. This munificence by the federal regulators will change the course of America's future and signals the abandonment of homeownership as a pathway to prosperity.
As a fair housing professional, I am concerned that this allows the Wall Street predators to once again prey upon urban and inner-ring suburban communities across the country. These new investors in the rental housing market may not be aware that they are covered under Section 805 of the Federal Fair Housing Act and its implementing regulations.
As a homeowner, I am concerned that there may be homes on my block or in my community that are owned by Wall Street firms that have shown no accountability for maintaining the properties they have acquired. A judge recently denied Deutsche Bank AG's bid to dismiss a lawsuit by the city of Los Angeles, accusing it of letting hundreds of foreclosed properties fall into disrepair and illegally evicting low-income tenants. According to a 2011 civil enforcement action filed by the city of Los Angeles, Deutsche Bank and its subsidiaries held title to more than 2,000 properties in Los Angeles.
According to news reports private equity behemoth Blackstone has acquired more than 25,000 properties across the country, including 1,400 in Atlanta and with a $2.1 billion line of credit from Deutsche Bank, is preparing to greatly expand its holdings.
This is bad news for our communities; homeowners bring stability to neighborhoods and are more engaged in local civic affairs. Homeownership and locally based landlords contribute to the social cohesion of our communities with shared values, commitment to the common good and bound by desire for economic prosperity for all.
The nomination of Rep. Mel Watt (D-N.C.) to lead FHFA is an opportunity for positive systemic change. In a properly regulated housing market, homeownership does not pose a risk to households or investors. I hope that this nomination signals a recommitment by this administration to homeownership. I believe strongly that the effective enforcement of existing laws and regulations coupled with the underwriting of safe, sustainable and affordable loans is a leveraged path to financial stability, and the social mobility that is the essence of the American Dream.
Stella J. Adams is a housing policy expert and a member of the Board of Directors of the National Community Reinvestment Coalition in Washington, D.C.
Blackberry announced the latest addition to its hardware series to follow the BlackBerry 10 ecosystem, the BlackBerry Q5, Tuesday during the company's annual confab in Orlando. No price has been set for the new device, but according to Heins, the Q5 will be a low priced device that will target emerging markets.
The announcement came during a keynote speech by Blackberry CEO Thorsten Heins.
"We're building for those mobile-first customers and businesses worldwide," Heins said. "We are the original mobile-first company."
For most Blackberry users, the mobile device has become their primary computer, both for personal use and for work. Thus far, it has been revealed that the Q5 will come in four colors: red, black, white, and pink.
Food safety advocates are outraged over revelations that U.S. Congress and President Barack Obama approved an act that includes a provision purporting to strip federal courts of the ability to prevent the spread of genetically modified organisms (GMOs).
The provision in the Consolidated and Further Continuing Appropriations Act of 2013 requires the U.S. Department of Agriculture to issue temporary permits allowing the continued planting of GMOs by farmers, even when a court rules that the agency erred in its environmental impact review of the GMOs.
The provision, which activists call the Monsanto Protection Act, is one for which the multinational corporation Monsanto has been lobbying Congress for at least a year. The legislation passed the U.S. House of Representatives on March 6 and the Senate on March 21, with Obama signing the legislation five days later on March 26.
Revelations of the provision, which was buried in the 587-page spending bill (HR 933, under Division A, Title VI, Section 735), have increased public awareness and interest in the issue of GMOs in the United States.
The provision states that if "a determination of non-regulated status … is or has been invalidated or vacated, the Secretary of Agriculture shall, notwithstanding any other provision of law, upon request by a farmer, grower, farm operator, or producer, immediately grant temporary permit(s) or temporary deregulation in part."
Industry control
U.S. Senator Jon Tester, a Democrat from Montana and one of the only family farmers in Congress, spoke out against the provision on the floor on the Senate.
"The United States Congress is telling the Agricultural Department that even if a court tells you that you've failed to follow the right process and tells you to start over, you must disregard the court's ruling and allow the crop to be planted anyway," Sen. Tester said.
"Not only does this ignore the constitutional idea of separation of powers, but it also lets genetically modified crops take hold across this country, even when a judge finds it violates the law," Sen. Tester said, describing the issue as "once again, agribusiness multinational corporations putting farmers as serfs."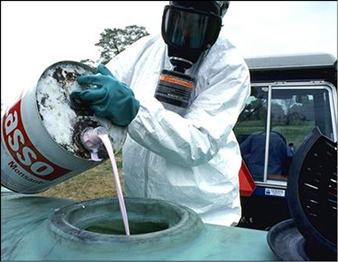 Monsanto herbcide to be sprayed on food crops. Photo: mgnonline.com
Meanwhile, activists are holding Senator Barbara Mikulski, a Democrat from Maryland, partially responsible, as she was the committee chair who allowed the amendment and could have addressed the provision in congressional hearings
In a statement, Sen. Mikulski's spokeswoman, Rachel MacKnight, defended her. "Senator Mikulski understands the anger over this provision. She didn't put the language in the bill and doesn't support it either."
"As chairwoman of the Appropriations Committee, Senator Mikulski's first responsibility was to prevent a government shutdown. That meant she had to compromise on many of her own priorities to get a bill through the Senate that the House would pass," spokeswoman MacKnight said.
Because the provision is temporary, it will likely come up for reauthorization in September 2013, an opportunity for public opposition that activists are relishing.
"The USDA has working mechanisms in place to allow for partial deregulation for those crops," Colin O'Neil, director of government affairs for the Center for Food Safety, noted in an interview with IPS.
"At best, it's unnecessary and duplicative. At worst, it takes oversight away from the USDA and puts it in the hands of the industry," Mr. O'Neil said of the provision.
The center has concerns about how the USDA has used temporary deregulation in the past, such as with genetically modified sugar beets. Both genetically modified alfalfa and sugar beets have been held up in court in the past over National Environmental Policy Act challenges.
"While we have argued that the USDA isn't adequately protecting farmers and the environment, the rider will essentially prevent the USDA from safeguarding farmers and the environment because it forces the agency to comply with industry demands," Mr. O'Neil said.
Future benefits
Monsanto has proposals for numerous GMO crops in the pipeline that could be affected by this rider.
"I think the Monsanto Protection Act and how it was passed and how it was slipped into law is just another example of how this company operates, how they manipulate our democracy, and they buy off our elected officials," Dave Murphy, founder of Food Democracy Now, told IPS.
"This is another example of how … they choose to operate within the rules of a democratic society. They're like the mafia, they go in and write the rules the way they want them to be," Mr. Murphy said.
"Monsanto really did themselves a major disservice by slipping this into a continuing resolution," he said.
Monsanto, which does derive benefit from the provision, responded in a statement, saying its critics have an "interesting narrative, worthy of a B grade movie script."
"Virtually none of the people protesting actually read the provision itself. Those who did, found a surprise: It contains no reference to Monsanto, protection of Monsanto, or benefit to Monsanto. It does seek to protect farmers, and we supported the provision," Monsanto wrote.
Senator Roy Blunt, a Republican from Missouri, inserted the provision, or "rider," into the spending bill, according to Politico. Monsanto is based in St. Louis, Missouri. (IPS)
Hundreds of black-owned businesses have a new way for consumers to find and shop with them. There is an app for that.
The Around the Way app, the brainchild of a marketing and technology firm in Washington, D.C., allows the customer access to companies that are at least 51% African-American owned and employed. The U.S. Black Chamber of Commerce last fall endorsed the app as the wave of the future for buying black, but the local chambers attended an online seminar last month in order to educate their membership on its use and marketing.
Eric Hamilton, Chief Marketing Officer for Around the Way, said that the structure of the service follows the Google model. "When Google first started, they allowed companies to list their service for free, but charged a premium for those who wanted to be located by ratings rather than location," he said. "All of our registered companies sign up for free, but there is a premium service for $89 per year that allows a company to be the first choice in that category no matter how far away they are from the consumer."
Since the fall, the Around the Way has registered over 800 companies in Georgia with 200 of that in metro Atlanta. Free to download, the app features a search tool with categories from banks to restaurants to auto shops and more. Users are able to geo-locate and get directions to the closest business via category, but it also allows for some healthy competition.
"Say you're in Atlanta and you want to find a laundry or dry cleaners," said Hamilton. "The app will give you the choice to go to the business that is within 5 miles or the higher rated business that may be in Marietta," he said.
---
Allison Cross, co-owner of Boxcar Grocer on Peters Street said that her store registered with the Around the Way app about two months ago. "Latinos and blacks are the most major consumers of shopping though mobile apps," she said. "I'm excited about the potential to collaborate with other businesses also using the app."
Boxcar Grocer offers organic and natural foods and baked goods, so they plan to use some of the bakeries, health and beauty manufacturers, and related suppliers listed on Around the Way as suppliers for their store.
Michael T. Hill, founder of the Atlanta Metro Black Chamber of Commerce, said that the Around the Way is an excellent tool to assist the black consumer in leveraging the $73 billion in buying power that they currently spend in other communities.
"I think it's a great start in terms of connecting with the African American consumer through technology," he said. "It's very similar to the Be Locally tool that one of our members developed on our website www.ambccc.us, where it allows consumers to rate a positive experience that they've had with a local company."
At present, there are over 52,000 African-American owned companies in metro Atlanta. It is hoped that that collaboration with the marketing team of Around the Way and the black chambers will increase the awareness of those companies in an effort to bring the black dollar back into the community.
"We've looked for solutions in our schools, our churches, and at the government level for saving our community," said Hill. "Now, it's time for our business community to step up."
Hill said that the Atlanta Metro Black Chamber of Commerce plans to officially launch the Around the Way app marketing plan to its 350 members in June during its music, technology, and entertainment roundtable series.
(Photo: The Box Car Grocer is a popular hangout for healthy food lovers in Castleberry Hill and beyond. Photo by Vincent Christie)
(StatePoint) Tired of taking orders? Have a great business idea? May, which is National Small Business Month, is a great time to think about starting your own endeavor.
But do you have what it takes to do it all yourself?
A new survey of business owners, conducted by Deluxe, a provider of marketing services and products to small businesses, concludes that small business owners share many of the same tendencies and even similar personal histories -- a sort of unique DNA that allows them to thrive.
For example, when it comes to heredity and actual DNA, 76 percent of small business owners have relatives who owned businesses. And 86 percent are ultra-confident, believing they can do anything they really set their mind to.
Most interestingly, the research found a tendency to try and fail, then succeed. Seventy-seven percent of small business owners surveyed said they would rather learn from failure than never try at all.
"With confidence, drive, tenacity and talent, small business owners will improve their chances at being sustainable and profitable," says Tim Carroll, vice president of small business engagement at Deluxe.
In time for National Small Business Month, here are some tips for those looking to launch businesses:
• Do your research: While starting a business involves risk, you can mitigate some uncertainty with proper research. In fact, seventy-nine percent of small business owners research products before purchasing, according to the survey -- a tendency that far exceeds that of the general population.
Have a clear understanding of your market, competitors, expected startup costs, overhead and return on investment. Know who your customer base will be and learn about them.
• Build a brand: Powerful branding differentiates a company from its competitors, making it easier for customers to choose that company for business relationships, and allows a company to get referral business.
However, don't wing it yourself on your home computer. A professional design team can help you stand out for the right reasons. For example, Deluxe offers logo packages that can include a tagline, letterhead and customized email signature. Visit www.Deluxe.com for tips on making your company's brand memorable and appealing.
• Communicate: Whether you're providing legal services or you're a roofing contractor, technology has made it easier for business owners to establish themselves as experts by sharing their knowledge with current and potential customers. Use social media tools to deliver news, offer information and provide deals and promotions.
• Optimize: If you build a website will they come? Not necessarily. Text-based content is how Google determines what a site is about. Be sure to add keywords to your title page, page description, meta tags and headlines. Using a professional SEO service, such as OrangeSoda, can make a big difference when it comes to traffic volume to your site. Visit www.OrangeSoda.com to set up a free consultation.
For more resources for starting or growing a small business, visit www.Deluxe.com and click on "Idea Hub."
These days, you needn't be a Gates or a Trump to be successful. The right tools and attitude can make all the difference.
Subcategories